Green Shoots

GREAT GREEN NEWS! Green Poems for a Blue Planet Show has been shortlisted for the 2015 Fringe Sustainable Practice Award at this year's Edinburgh Festival. Twenty-one acts have been shortlisted because of their use of form, content or framing to engage with the social, economic and environmental faces of sustainability. Congreenulations to all the nominees.

BAA-BREAKING NEWS! The Green Poems for a Blue Planet SHAUN THE SHEEP is on the streets in Bristol. Please go and say hello to Green Poems for a Blue Planet Shaun outside the Bristol 2015 Live Lab on Bristol's waterfront or in Covent Garden London in September. Bardic and B'ewe'tiful.

Catch Martin's performances with his 'partner in rhyme' Shaun at 2.30pm on Fri.July 24th, Wed.July 29th, Fri. Aug. 7th and Fri. Aug.14th. at the 2015 Live Lab 50 yds from the Watershed on the waterfront.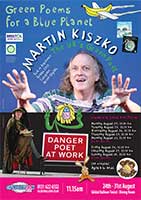 Martin is proud to announce that he will be giving eight performances at the Gilded Balloon at the Edinburgh Fringe Festival August 24th - 31st. Please have a look at the site and book tickets if you're going to be up there! http://www.gildedballoon.co.uk/tickets/ Box Office:0131 622 6552
Wednesday 19th August. Performance and workshop at The Lantern at Colston Hall, Bristol. With Green Poems
for a Blue Planet exhibition in The Glass Room at the Colston Hall.
August 24th - 31st eight performances at the Gilded Balloon, Edinburgh Fringe Festival. http://www.gildedballoon.co.uk/tickets/
Green and Grown
Martin recently performed at schools in Templecombe and Conwy where he has been performing for winning schools of the WaterAid 2014 and 2015 poetry competitions. He powered up his poetry at Bristol's Big Green Week, the Seed Festival Stroud and at Bristol's Cycle Sunday where he performed 'poetry in motion' whilst riding his Pashley green bicycle!

Bristol 2015's Poet in Residence also gave six performances as POET IN THE SQUARE in Bristol's Millennium Square and performed to 400 children as part of St. George's Sounds Inspiring Festival. He also rhymed the hours away at Penny Brohn Cancer Care National gardens Open Day,at St. Mary Magdalene Bristol and was also featured for a week on the TV programme THE SOURCE on the Made in Bristol TV Channel. The Green Poems for a Blue Planet exhibition of prints has also been running for three weeks at Hawkswood College Stroud.
On Friday 1st May Martin premiered his specially-written poem entitled Keen to be Green for the official launch of the Bristol Green Capital Schools Programme on 'Keen to be Green Day' The Mayor of Bristol officially launched the new programme.

Green Poems for Pope Francis: Martin recently received a letter from the Vatican. Pope Francis has received Martin's books of poems and is supporting the Green Poet's mission with prayer!! See my blog.

In February, Martin gave sixteen performances and workshops at schools on the Isle of Man and January saw performances, workshops and the Green Poems exhibition at the Plough Arts Centre in Devon. Children visited the exhibition and then created their own green poems which they also wrote on junk and litter to create an amazing exhibition that also went on at the Plough!

At the start of the year Martin performed at the Opening Ceremony of Bristol 2015 European Green Capital and the Civic Dinner in his role as POET IN RESIDENCE BRISTOL 2015 EUROPEAN GREEN CAPITAL. So if you want your five-a-day greens in a poetic portion - come to Bristol in 2015!

In addition to winning a 2014 Cilmate Week Award for Best Artistic Response to Climate Change, Martin has also recently won an award at the International Green Apple Awards for Education and Training.

The Ministry of Education in Cyprus have chosen Martin's poem Water Walk to be a part of the English language learners' curriculum.
A selection of limited edition prints of the poetry accompanied by Nick Park's illustrations have also been made available for sale to promote the new book and performance and workshop work.

Poems on Water, Martin Kiszko and WaterAid's national water-themed poetry competition, attracted over two thousand entries from all over the world and reached over 1.3 million people! Martin is performing at the schools of the winning entrants. He recently gave a speech and performed at WaterAid's Annual Supporters Meeting in London where two of the young winners Jai Mark and Morro Barry performed alongside.
Keep a Green Eye Out For...the Green Postie Poet Competition!
Can you spot the Green Poet Postie?! Martin Kiszko - the 'UK's Green Poet' and the Poet in Residence for Bristol 2015 European Green Capital will be riding his green Pashley bicycle around the cycle paths, streets and hills (!) of Bristol spreading the word to families about the power of poetry to highlight environmental issues. He'll even be spreading the Power of 'Pooetry' as he performs his well known and well loved Poo Power poem for passers-by!
Let's hope someone clears up any rhyming couplets he leaves behind!

As Martin hands out recycled envelopes with a specially designed Nick Park stamp and the Green Poet Posties's special rubber stamps, children are being invited to enter a special 2nd Green Poetry Competition where they can win books or a live performance of Martin's one man show for their school.

Martin's one man poetry show has been performed from Los Angeles to India and from Malta to the Isle of Man and is based on his two funny and challenging environmental poetry books Green Poems for a Blue Planet and Verse for the Earth both illustrated by Wallace and Gromit creator Nick Park.

The poems explore what it means to be green! (Or not!) UK reviews have described Martin 'funny, enlightening and thoughtful' and 'sheer environmental magic.' There is also a touring exhibition of the poems and illustrations available to organizations and galleries and curated by Adam Glen. Martin says, 'I'm pleased to be poetry powered and powered by Pashley as I 'pedal' my poetry for Bristol's big green year! Children and families alike have been captivated by the green bicycle, the green poet and what it means to be seen to be green!'
365 Greenquips
Check out Martin's 365 GreenQuips. 365 daily amusing and challenging GreenQuips on Facebook, Linked In and Twitter.
YouTube
Take a minute out to look at the new films including Water Walk made with WaterAid and shot in Madagascar.
Grollywood!
Green Poems went to Bollywood! Martin performed at the National Centre for the Performing Arts, India. 'You were a great hit!' Anil Dharker, Mumbai Literature Festival.
The Beano
Check out the poem ENERGY LAUGH in THE BEANO - one of the world's longest running children's comics!
Broadcast
Martin was recently featured on BBC South's news programme about his work with WaterAid, Water Companies and schools across the UK. Other broadcast performances and interviews have included BBC's BLUE PETER, with the book also featured on Blue Peter's Bookclub website.
Martin also read poems on BBC Radio 4's series SAVING SPECIES and on BBC Radio Bristol.

Marin was featured for a week on the programme THE SOURCE on Made in Bristol TV channel.
Past Performances and Workshops
As the UK's Green Poet and the Poet in Residence for Bristol 2015 European Green Capital, Martin's extremely theatrical and physical performances have been featured on BBC's flagship children's programme BLUE PETER, at the Eden Project Cornwall, Bristol's Festival of Nature, the International Green Awards Ceremony at London's Natural History Museum, Green Apple Awards Ceremony London, 10:10 Environmental Awards Ceremony, Latitude Festival, Ilkley Literature Festival, Bath Literature Festival, Birmingham Libraries Young Readers' Week, Greenscreen Film Awards Festival Sheffield, and Colston Hall 2 Bristol where Martin's poems were accompanied by the Bristol Ensemble Orchestra.
One of the world's longest running comics THE BEANO has published one of the poems. Martin also joined Bill Oddie and Simon Barnes on the panel of judges for the The World Land Trust's limerick competition. Martin is currently touring schools and colleges throughout the UK with performances and workshops. His most recent work has been in association with WaterAid and he gave performances and workshops at Yorkshire Water, Southern Water, Welsh Water, Thames Water and at London's Canary Wharf to launch World Water Day! He recently performed at Lincolnshire County Council's launch of the CaNeBuZo Carbon Neutral Business Zone for which he has written a poem Canebuzo Canebuzo! Catching his breath, he went on to give a speech and perform at WaterAid's Anuual Supporters Meeting in London. He is now gathering all his rhyming couplets for 2015 Bristol performances.
Press
Interviews, poetry and articles have appeared in BBC Wildlife Magazine, Venue magazine, Bristol Evening Post, Bristol Review of Books magazine, Bristol magazine, Spongebob Squarepants comic, The Beano, Made in Bristol TV, and online mag www.Essentialwriters.com